The CARL Source software is attracting ever more players in Swiss industry. In 2022, Gruyère Energie chose the publisher for the EAM of its production and distribution infrastructures (district heating, electricity, drinking water).
A few weeks after its Lausanne subsidiary opened, publisher Berger-Levrault achieved yet another success with Gruyère Energie, which chose the CARL Source EAM software to manage the maintenance of its production and distribution infrastructures.
"The management of our assets and specifically the organization of their maintenance is a key factor for an infrastructure company such as Gruyère Energie. We relay on the CARL Source EAM software to move us in the direction of excellence in this field," underscores Claude Thürler, General Manager of Gruyère Energie SA.
And Laurent Rollinger, Manager of Berger-Levrault Switzerland development, adds: "I especially wish to thank Gruyère Energie for the confidence they have shown in us by choosing our CARL Source software to run the maintenance of all their equipment. We do everything possible and dedicate our best specialty experts to assist the Gruyère Energie teams on a day-to-day basis in deploying the solution and in building a high-quality partnership between our two companies."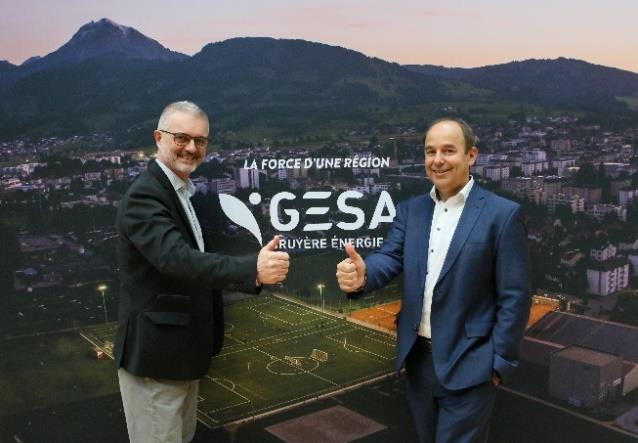 Laurent Rollinger, Manager of Berger-Levrault Switzerland development,

and Claude Thürler, General Manager of Gruyère Energie SA.
Structuring maintenance, a strategic project:
As a key player in their region's energy transition, Gruyère Energie offers innovative renewable energy solutions to their clients. And for maintenance, there are many technological and organizational challenges to meet. Among them, the development of new processes on state-of-the-art equipment, optimization of overall control, maintenance, and assistance for nearly 300 associates as part of an ongoing modernization and improvement effort.
In order to structure their activity, standardize methods, and convert all of their maintenance processes to digital, Gruyère Energie has chosen to deploy the CARL Source CMMS/EAM software offered by publisher Berger-Levrault.
"Given our substantial growth, we needed a more suitable ad hoc EAM tool than a conventional digital and paper system. Ours needs relate to our technical infrastructures and our energy distribution systems (thermal generation plants, hydroelectric facilities, distribution grids, etc.) which are becoming too large to be managed without CMMS. Our state-of-the-art equipment requires more monitoring and preventive maintenance. For example, I think of our industrial infrastructures and our rotating machines, which require very rigorous tracking. That's where our true maintenance capital lies. Our technicians, all of whom have an excellent level of autonomy, will discover the ease of use of CARL Source and its mobile solution CARL Touch," explains Tahar Klabi, EAM Manager at Gruyère Energie SA.
As the fruit of 35 years of expertise, CARL Source software ensures speed, mobility, and ease of use. Features that are compatible with the long-term needs of Gruyère Energie, which expects to rely on its functionalities to ensure:
the management of their equipment and infrastructures;
work requests;
preventive, curative, monitored, and predictive maintenance;
budget control;
viewing inventory;
management of line equipment and maintenance contracts;
digital conversion with the CARL Touch mobile solution;
equipment tracking with GIS;
building management via Building Information Modeling (BIM).
In an initial stage, Gruyère Energie will use 10 CARL Source licenses and 13 CARL Touch mobile licenses, with a final implementation of service scheduled for June 2022!