Choosing and implementing a CMMS tool in the company
Excerpts from the AFIM study on CMMS in France.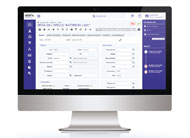 In order for the project to be successful, the implementation of a CMMS (Computer-aided maintenance management) necessarily requires a detailed and thorough analysis of needs, a precise definition of objectives, careful preparation of the players and the support of all involved. Indeed, such an approach must be carried out under the impetus of the management and the participation of the company's personnel. These prerequisites will make it possible, on the one hand, to make a relevant choice from among the offerings on the market and, on the other hand, to reflect on the most intelligent and effective organisations.