Maintenance is as old as the factory or workshop. It has evolved gradually with the industrial revolutions. Today, CMMS could make the work of field technicians even easier and more efficient thanks to augmented reality. However, beware of the ROI of this new "augmented maintenance": choosing the right time to use it is essential.
By Laurent Truscello – Product and Business Services Manager at CARL Berger-Levrault.
Augmented maintenance
As the company transforms, and as the digital world is penetrating all sectors and all professions, technologies such as AI (Artificial Intelligence), Machine Learning, IoT (Internet of Things) have already reached service maintenance, integrated or linked to software CMMS (computer-aided maintenance management).
It's augmented reality (AR)'s turn to change the game. More specifically, we will use so-called mixed reality, a technology from the "Augmented reality" family, which merges the real world and the virtual world, makes it possible to interact and manipulate physical and virtual objects to "increase", in the field, the information provided available to maintenance technicians. This is called increased maintenance.
This concept, still emerging, however faces some difficulties related to costs, training and practices. How to iron them out?
Mixed reality, an original application for maintenance?
This ability to add, or "augment," virtual objects into the real-world view is a new concept in maintenance. It is inspired by experiments already carried out in other fields, in particular for the general public and on smartphones, such as gaming. Headsets exist but rather for virtual reality use (games, virtual tours, etc.).
Transferred to the field of maintenance, all this tooling could present itself as a new lever for improving efficiency.
Experiments are underway in the R&D laboratories or in Factory 4.0. They apply to the remote assistance of a technician in the field. A physical or virtual "maintenance expert" will be able to take over and remotely "increase" the technician's vision of the scene of his intervention to assist him.
What is the ROI of augmented reality?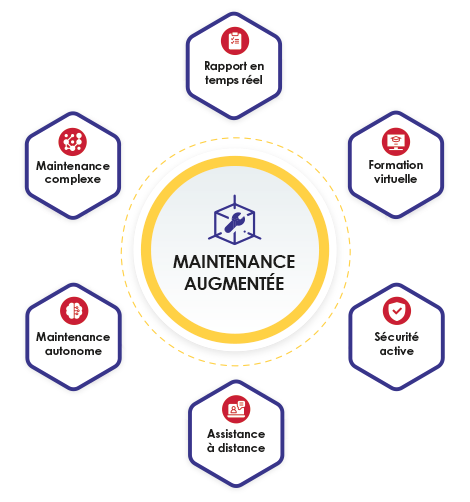 The technologies are there, the equipment is there, like the headsets. We are only at the beginning, but what is holding us back?
The investments are significant: the equipment (around 3,800 euros for a Microsoft Hololens 2 headset); the costs of acquisition, modelling and preparation to make the data compatible. It is therefore in terms of ROI that we must approach the subject.
But this ROI is not easy to demonstrate. There are many obstacles: training colleagues in these new tools, consequences on the human aspect, understanding and guidance, etc. Yet the potential is already well established, for example in aeronautics and in industries that require complex technical acts, or even closer to us in the maintenance of automated gates.
The challenge is therefore to multiply the benefits and find the right use cases to popularise augmented maintenance. Without pragmatic ROI, any project of this nature is compromised.
Augmented reality maintenance: what method and what benefits?
Before calculating the ROI of augmented maintenance, we will target optimized use cases on actions that are themselves very targeted; for example, the officer will not wear a helmet on his head all day, he will use it for specific operations. For not everything needs "augmenting"; augmented maintenance must be used dynamically and in a specific context.
The ROI must therefore be considered on a case-by-case basis: what expected benefits for reports, virtual training, fewer accidents among field agents (active safety), etc.?
Here are some best practices:
Rework your range construction and maintenance sequences;
Rethink data differently;
The subject of anchoring is essential; make sure that the virtual windows and the real objects of reality work together. Any unnecessary manipulation of virtual windows results in a drop in efficiency and therefore in potential ROI.
The ROIs then become tangible. And proofs of concept can be created.
Therefore, even if traditional maintenance will continue, it will evolve naturally with the almost "native AR" generations, and be complemented by new perspectives.
Beyond that, the equipment is becoming more and more complex, with more data thanks to the IoT in real time, will cause augmented reality and CMMS to evolve and AUGMENT EVERYTHING, from assistance with diagnosis and efficiency in the technical act of maintenance.
In short, it is towards the global interface 4.0 of the factory of tomorrow that we seem to be heading…