The Mont Blanc Tunnel, a strategic European link
The Mont Blanc Tunnel has been a strategic European link since 1965, connecting the towns of Chamonix (France) and Courmayeur (Italy). Stretching for up to 7.2 miles, this road and tunnel of exceptional size requires rigorous monitoring of all safety devices. The Mont Blanc Tunnel.
European Economic Interest Grouping (GEIE-TMB) is the Franco-Italian structure responsible for the maintenance and operation of the tunnel. Considered a global benchmark in terms of safety, the Mont Blanc tunnel is monitored every day by teams of experts and state-of-the-art equipment split between two platforms, one at each end of the tunnel. To assist the crews of technicians in their maintenance operations and to guarantee tunnel safety and availability to the French and Italian governments, GEIE-TMB has chosen to acquire the CARL Source solution.
Guarantee the flow of traffic and improve equipment safety
In order to guarantee the flow of traffic and to improve the safety of its equipment, the Mont Blanc Tunnel needed to replace its old CMMS solution, which had become obsolete. A project group involving the managers of each department was created to find a replacement solution with the following requirements:
Ergonomics: must be easy for various users, such as control room operators, maintenance technicians, or administrative staff.
Mobility: must be backed by a mobile application that can be used without an Internet connection, allowing technicians to access information in all conditions of use.
Volumetry: the database must hold a large amount of data, related to a myriad of equipment (accelerators, vehicles, printers, fire extinguishers, video surveillance cameras, high voltage installations, buildings).
Functionality: must be used to manage numerous preventive maintenance procedures and monitor the 150 service contracts.
Multilingual: Franco-Italian teams must be able to use the software easily and safely.
« CMMS to guarantee safety and availability. »
Mont Blanc Tunnel: a project focused on user safety

Rolling out the CARL Source Facility CMMS
The CARL Source software was chosen following an RFP request from GEIE-TMB. Over a period of six months, TMB's IT teams proceeded to clean their database and update all preventive maintenance programs, before transferring them to a test database of the CARL Source software using the integrated data import module, CARL Loader.
The following elements are created at the same time:
Sont créés dans le même temps :
Interface to the LOGOS software used by the Security Control Station.
New geographic tree structure.
Automatic color indicator based on expiration date of service contracts.
A QR code and an NFC chip are placed on each of the 8000 pieces of equipment to allow technicians to easily scan each unit using the CARL Touch mobile solution, and to access technical data and service history.
The software is tested and validated by multiple evaluators from different departments. Each user is trained to use the CMMS in a customized way. Switching to the new solution did not cause any disruption to road traffic.
« Our inspection bodies can use CARL Source as easily as one of our technicians. »

Sabrina Ducruet, Head of Methods, Programming and Contracts
The benefits provided for managing the maintenance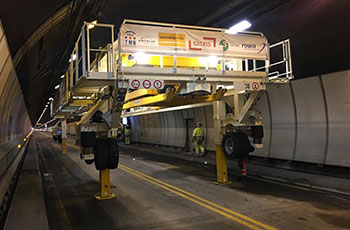 Traceability, fleet tracking in real time, responsiveness… the benefits provided by CARL Source for managing the maintenance of the Mont Blanc Tunnel are many.
By using the geographical tree to locate the equipment, each of the 200 employees and 80 fire service agents can issue a service call request. It can be a corrective service call or a service request for a non-urgent need. As soon as it is sent, the request is automatically assigned to a technician according to their skills, availability and native language, thus guaranteeing immediate and effective processing..
Subcontractors also use CARL Source. This makes it possible to centralize technical information on a single database, serving as a reference for all operators. "Our inspection bodies use CARL Source with the same ease of use as one of our technicians," says Ms. Ducruet, Head of Methods, Programming and Contracts. By using CARL Touch without an Internet connection, each technician has access to all technical data relevant to the service call, right by the equipment. "It is thanks to CARL Source that the GEIE-TMB teams are able to guarantee both the availability of the 8,000 equipment units in the tunnel and the safety of passengers on board the 5,000 vehicles that use the tunnel every day," adds Sabrina Ducruet.
Our Facility Management solution CARL Source Facility