"…We needed a reliable and scalable system to keep track of all our facilities."

Richard Bana, Technical Manager at Winoa France
Winoa, world leader in surface treatment
With 350 tons of abrasive steel shot, 1,000 employees, 11 factories on 4 continents, 6 test centres and 3 R&D centres, Winoa has 10,000 customers worldwide, including granite cutting companies.
The group covers 100 countries through its network of 100 salespeople, 23 technical experts and 240 agents and distributors. The French site, located in Le Cheylas – between Grenoble and Chambéry – represents 30% of the group's volume and employs 85 people. "We are organised into three manufacturing workshops, including a steel mill for raw shot, a heat treatment workshop and a final packaging workshop," explains Richard Bana, technical manager. "We also have a large general shop and spare parts section with 8,500 parts for a total stock value of 5 million euros."
Optimizing the management and safety of industrial maintenance with the CARL Source CMMS
"Our total maintenance budget is approximately 85 million euros with a wide variety of work tasks," explains Richard Bana. "There is the machine park for the liquid steel and raw shot manufacturing workshop, then for the heat treatment and again the cooling circuits and the dust collectors. We needed a reliable and scalable system to monitor all our installations." So, Winoa France migrated from its in-house developed ERP to the CMMS solution by CARL Berger-Levrault.
The objective? To centralize the data on a single application in order to have a global vision of the different installations, to make the link with the stocks, to create a direct interface with the technicians and to facilitate the updating of the data thanks to the simultaneous connection. "A very important point was to create a link with the meters to obtain an energy gain and, thus, reduce our operating costs. Safety also remains a key issue," says Richard Bana.
"…We have readable and usable data to plan future interventions."

Guillaume Ronchi, continuous improvement technician at Winoa France
CARL Source, a flexible and customizable CMMS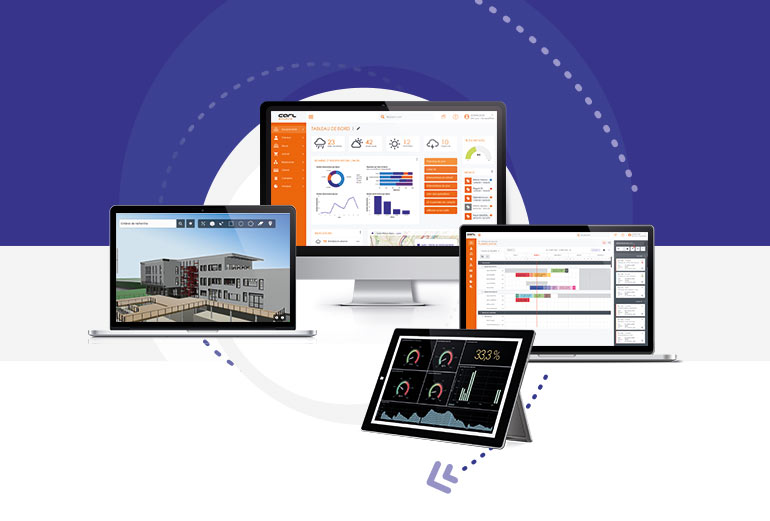 Winoa France has chosen to personalize the tool rollout. "We have created specific accesses for each person, explains Guillaume Ronchi, continuous improvement technician. Depending on the business families, for example storekeepers or administrative staff, each screen is personalized with the information and KPIs it needs." For equipment management, Winoa has chosen to exploit the Mapping functionality to find your way around the workshop. "As soon as we select a piece of equipment, we have the tree structure that unfolds – up to six levels of tree structure – with all the elements and a very high degree of precision."
Security was also an important part among the objectives of the CMMS project. Thanks to the CARL Source features, the company can now create risk prevention sheets related to the working environment, whether electrical, mechanical or gas. "This makes it possible to assess the risks associated with each intervention and the technician can prepare for it," rejoices the expert.
Since 2013, the CMMS signed CARL Berger -Levrault is used throughout the workshop with changes as it is deployed. In order to manage stocks and to assign the cost centers to the equipment concerned, Winoa has chosen to develop a dialogue interface between CARL Source and its purchasing ERP, which also makes it possible to integrate alerts if monthly spend thresholds are exceeded. "We are working a lot on the store," says Richard Bana. "Since there was no direct link between the store and the purchases, we used the CARL Touch mobile application with development for reading and integrating barcodes to make it easier to release parts. It must be said that we have between 60 and 80,000 euros of monthly output of spare parts. This explains the usefulness of this development both for maintenance and for production." CARL Touch can also facilitate inventories thanks to the mobility provided by working offline.
And the benefits are no less in terms of regulatory work. "With CARL Berger-Levrault's Control-S option, we can import Bureau Veritas documents and have a clear vision of the interventions to be carried out," says Guillaume Ronchi. "We therefore have readable and usable data to plan future interventions."