Auxigene, multi-technical maintenance, multi-services and HVAC work.
Auxigène is a recognized player in the multi-technical maintenance market – multi-services specializing in heating, ventilation and air conditioning (HVAC) equipment for hotels and the offices of prestigious clients such as Iliad Free, Louis Vuitton and Aviva Investors Real Estate France.
Managing more than 500,000m² by mobile technicians requires reliable and efficient monitoring and traceability of work tasks. The CARL Source Facility software has become the best CMMS solution, namely thanks to its CARL Touch mobile solution which allows technicians to have all the data at their fingertips.
A CMMS solution to modernize maintenance management
In 2012, Auxigene started looking for a CMMS solution to modernize the management of its maintenance, at the time carried out on Excel and on work orders paper.
The team opted for the CMMS CARL Source Facility which meets its expectations:
Facilitate client reporting thanks to complete data logging.
Respond to customers' requests for a CMMS to, in particular, manage the regulatory maintenance of thousands of refrigeration installations checked twice a year.
"A CMMS to support mobile technicians in their missions."
Auxigene: a project to optimize the work of mobile technicians

Rolling out the CARL Source Facility CMMS
CARL Source Facility was rolled out in 2012 across all group sites. Excel data is transferred to the CARL Source database via CARL Loader, the data import tool. About sixty "requester" profiles were created for Auxigène customers to allow them to issue a request for work with a technician in the event of an HVAC problem.
In 2018, the project took on a new dimension with the dematerialization of maintenance for all mobile technicians. CARL Touch mobile solution is then used on tablets to digitize all the work orders. Field workers now represent 90% of the maintenance teams at Auxigène. They have been trained to use CARL Touch in just a few minutes by their team leaders, themselves having followed a complete training programme provided by a CARL Berger-Levrault consultant. Mr. Racagel, assistant quality and method manager, tells us that "there was no problem using the tool, irrespective of the associate's age."
"I really appreciate the CARL Berger-Levrault service, as soon as I encounter a problem, I have a number to call where someone is always available."

Brice Racagel, Quality method assistant manager and CMMS administrator
Results on preventive maintenance and resource planning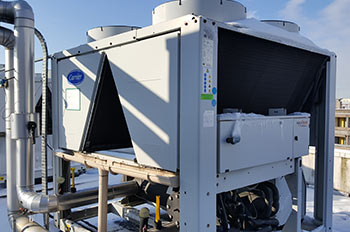 The use of CARL Source helped the company implement effective preventive maintenance and optimize all processes, from planning to monitoring interventions. Of the 15,000 annual interventions, 80% or 12,000 of them are now preventive!
Resource planning tool now allows the company to organize all the work and its members of staff. Each technician is informed on Monday morning of his weekly schedule via a personalized BIRT report. This monitoring and traceability allow Auxigène to justify the work time and the related invoices to their customers.
CARL Source Facility is a strategic tool for Auxigène. Close collaboration has been created with CARL Berger-Levrault which offers personalized service and an on-call service that is always available. "We have a really very professional reactivity from the CARL Berger-Levrault technical teams" confides Mr. Racagel who can contact a speaker for any question.
The rollout of CARL Source will continue in coming years. The company has started experimenting with CARL Flash, the mobile application for service requests and work tasks, with the aim of simplifying this process for its customers. Among its next objectives, the group is also working to automate the links of CARL Source with other software, SAGE for accounting and Figgo for managing absences.
Our Facility Management solution CARL Source Facility